Snapchat is a very popular platform and it's quite a challenge to use for investigative purposes. Especially because you need a mobile phone in order to dig a little deeper. The website Snapchat offers is simply just not comprehensive enough.
So in this blog post you'll find some hints and tips on how to use Snapchat for OSINT.
Snapchat.com
First of all there is the website Snapchat.com. Although Snapchat focuses mostly on mobile usage, there is some info to be gained when looking at the website.
As explained in our previous post Nixintel has showed you how can find and download information from on the Snapchat Live Map and the Snapchat Stories. He even made a 10 minute video for you explaining all of the tactics:
What is the exact date/time content on the Snapchat Live Map or Snapchat Stories was uploaded?
Unfortunately, there is no way of exactly telling when something was shared on the map. Content found there won't be any older than a maximum of 6 days.
The public shared Snaps will only show a time indication like '2 hours ago' or '1 day ago'
This goes for both the Map and for the public Stories.

How can I figure out who uploaded content on the Snapchat Live Map or on Snapchat Stories?
If you want to know who shared content on the Snapchat Live Map you'll have to look and listen to the content to see if there might be any clues as there is no username displayed in a Snap. So listen if someone is mentioning something, watch the video to see if you might be able to geolocate it or maybe recognise someone, see if there might be stickers or tags in the Snaps or maybe a Snapcode is shown. A Snapcode is a QR-code-like code which can only be scanned with the Snapchat mobile app and it can direct you to someones profile, content outside of Snapchat (like a website or video) or to paid content (advertisement).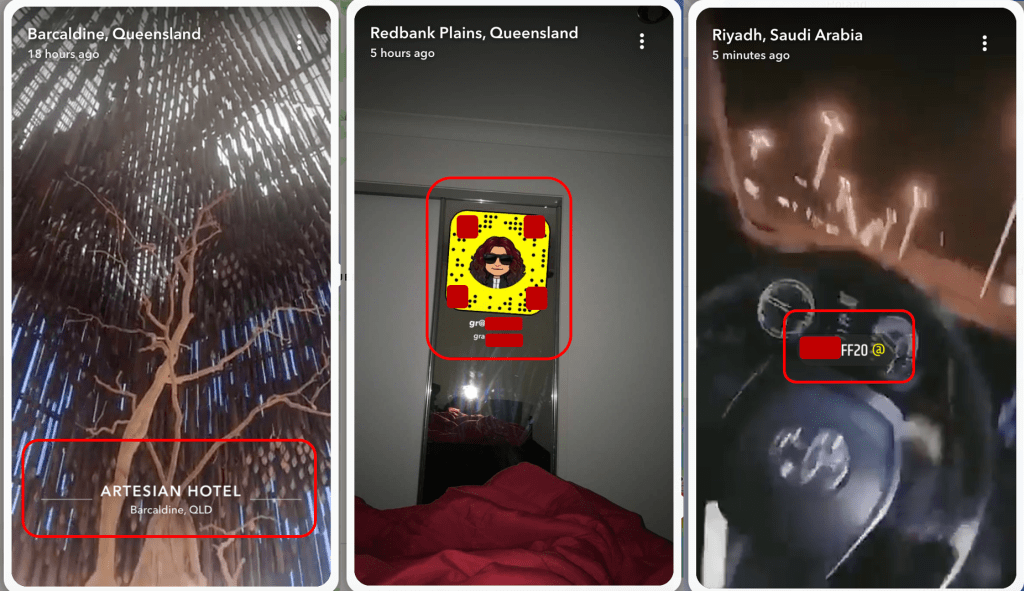 BUT, if you decide to use the mobile version of the live map (for which you'd need a virtual machine or an actual smartphone) there is a chance you'll be able to whoever posted the snap.
In de mobile version (shown on the screenshot on the right) there is a button under a video with the text "View Creator". As in the website version, you won't be able to see this.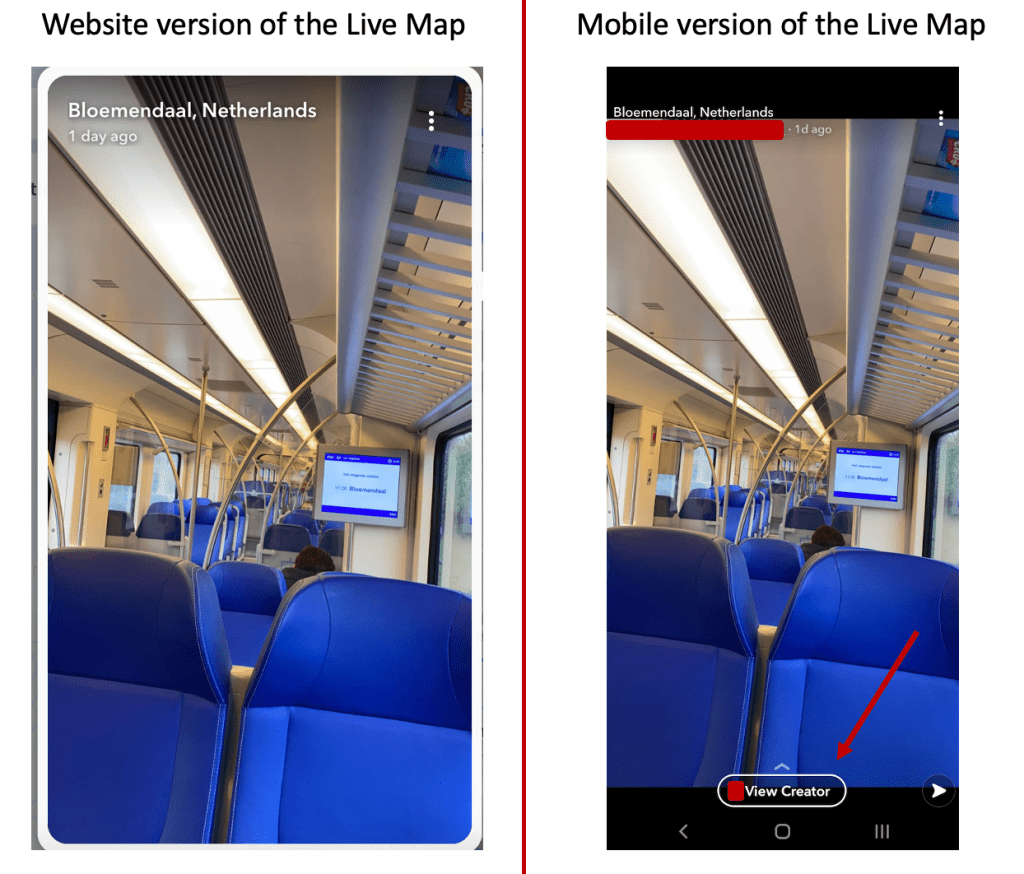 Who can see that I view content on the Live Map and Stories?
It's a good thing to know that stories viewed either on the Live Map or on the Public Stories will not notify the user of the fact you viewed their content. This is a whole other story when you view Snaps/stories within the mobile app (read down below).
Make sure not to scan any Snapcodes if that's not necessary. You'll either instantly add someone to your profile or visit a website outside Snap and might exposes yourself there.
Snapchat Mobile App
To get the best experience of Snapchat, it's best to use the mobile app. It's great if you've got a smartphone ready to use for your investigation, but if you don't have that resource available, emulating an Android phone is your best option.
You can do this by using software like BlueStacks or GenyMotion. You'll be able to use your computer just like an Android tablet or phone.
If you have any issues running Snapchat on the emulator, try Android Studio. This might require a little more disk space and storage, but it works very well with Snapchat.
When signing up for Snapchat, you don't need a mobile phone number. You can sign up with an email address.

Searching for phone numbers
If you wonder if a phone number is connected to a Snapchat account, simply add the number in your phone contacts (either in your smartphone or your emulator) and sync your contacts with Snapchat. If there is a match, you'll see the username appearing in your screen.
To do this, click on the silhouette icon on the top right in your screen. Select 'All contacts' in order to see if anyone in your contacts has a Snapchat profile.
Can someone see that I've searched for them?
Do keep in mind that there is a small risk that your profile might be appearing in your targets suggested friends section.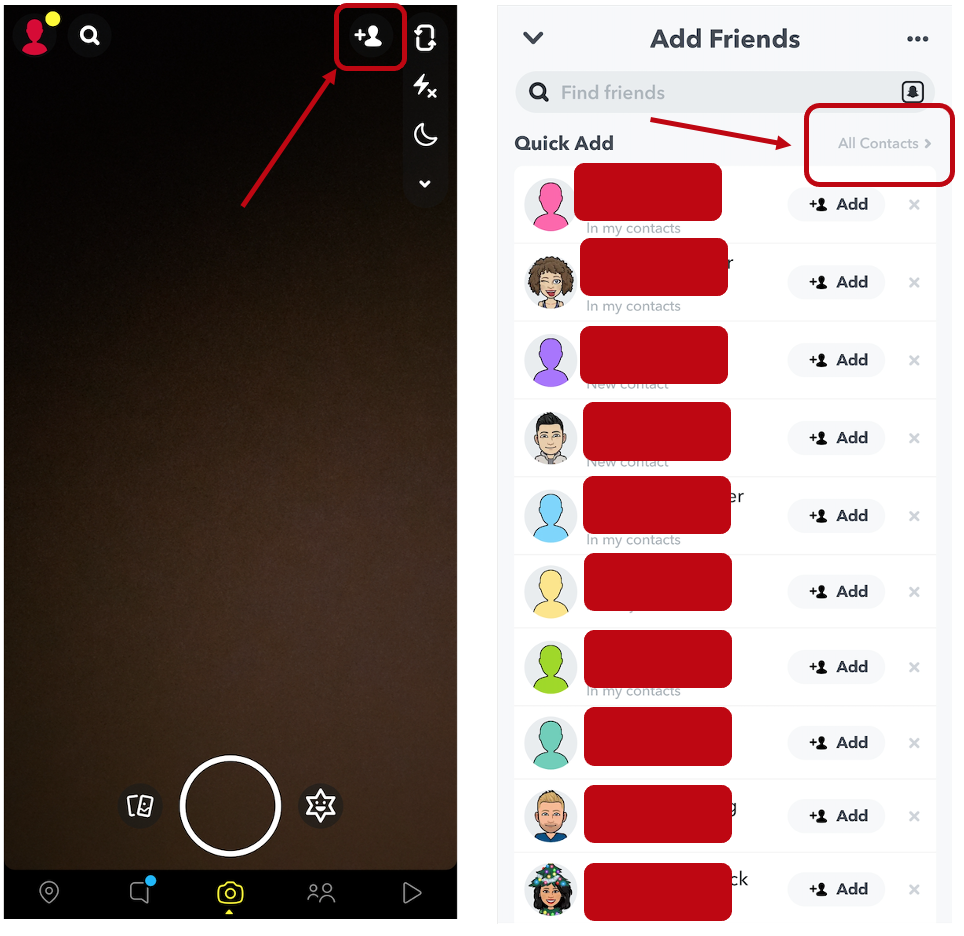 Searching for usernames
You can search for usernames within the mobile app by simply typing in the username in the search bar (which can be found under the magnifying glass icon on the top left in the app). If there is a profile with that username, you'll see it in the results.
Can someone see that I've searched for them?
There might be a small risk your profile ends up in the friend suggestions of your target.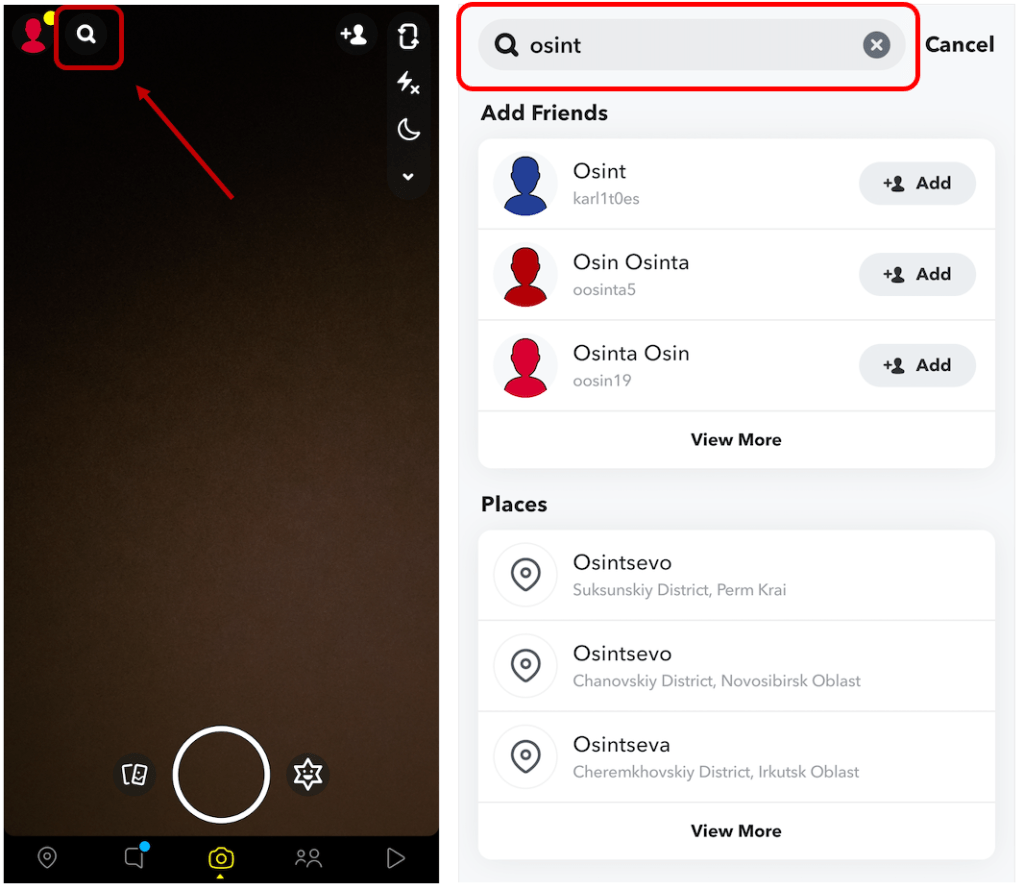 Viewing Snaps on the mobile app
There are various ways to find content you can view on Snapchat within the app. For example, you can use the search bar to find Snaps or you could follow people to view their content.
Can someone see that I've watched their Snaps/Stories?
Keep in mind that when you're looking at Snaps within the mobile app, the owner of the content can see your 'view'. They'll see your username and profile picture and can click on your profile in order to view it. Only when a Snap/Story is viewed more than 200 times, there will be a counter instead of profile names.
There is no way to do this completely anonymously.
Download Snaps/Stories from the mobile app
If you've found Snaps/Stories you want to save for later, the best way to do this is my either mirror your phone to your computer and make screenshots/screen recordings of your computer screen OR use an emulator and make screenshots/screen recordings of your computer screen.
If you want to save content found on the Snap Map or Snap Stories, read our previous blog.
Can someone see that I've 'saved' their Snaps/Stories?
Yes. If you make a screenshot on your mobile device (either within an emulator or within the app on a physical phone) the user you make a screenshot of, will be notified. He will be notified when you make a screenshot of private chats, Snaps/Stories or of their profile.
To prevent someone from noticing you, mirror your phone or use an emulator and make screenshots or screen recordings of your computer screen. Or use a second device (smartphone or digital camera) to make recordings.
Searching outside Snapchat
If you want continue your search with whatever you've found on Snapchat, here are a couple of possibilities:
Does this Snapchat username even exist?
If you've found a username, either on Snapchat or somewhere else on the web, it might be helpful to verify if the account exist. If you don't have a mobile phone or emulator to check this, you can relay on this URL to visit in your browser; snapchat.com/add/InsertUsername01. Change 'InsertUsername01' to the username you're investigating.
If the profile exists, you'll see the bitmoji or profile picture. If there are any publicly available snaps, you might see them too. If there is no bitmoji or profile picture, only the Snapcode will show.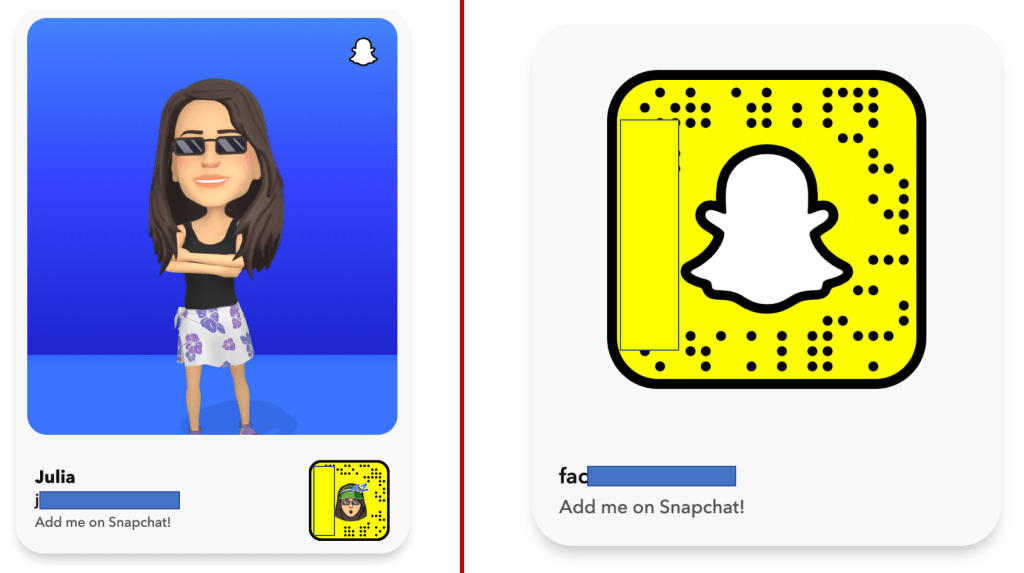 If the username doesn't exist, you'll see a message there is no content available. This is a confirmation of that the profiel doesn't exist (anymore).
Be aware that since Februari 2022 Snapchat lets you change your username once a year. If you struggle to find a username in the mobile app because maybe the user has changed their username, definitely try the above named method. When putting the old username in the URL (snapchat.com/add/InsertUsername01) you'll see the new username displayed just underneath the bitmoji or snapcode.
Snapchat index websites
There are a couple of websites out there which offer Snapchatters to login and sign up for their website. Most of them are focused on dating.
They offer you the opportunity to search their database. And because users of those site can put extra information out there (e.g. their gender, age, hobbies, etc.), it might be interesting to see if a username found on Snapchat pops up there too. Just keep in mind that people displayed on these websites had to sign up themselves. This is not a copy of Snapchats database.
Examples are Ghostdex.app and Ghostcodes.com.
Snapchat username search
If you've found a username, you can user that username for new searches. You could use a username search engine like Whatsmyname.app to see if the username might appear anywhere else on the web.
It is also good to know that a Snapchat username can't be changed by the user.
Via search engines like Google
But it might also be interesting to search for the username in search engines like Google. Put the name between quotation marks ("example") search exactly for that username.
It might also help to add the ghost emoji to the search. Often Snapchatters refer to their Snapchat username on other platforms by posting the ghost emoji followed by their username > 👻 example.
Go to Emojipedia.org, search for the ghost emoji, copy the emoji by clicking on the 'Copy'-button. Now go to Google.com and conduct a search like shown below to see if there might be

This way you can find, for example, Instagram profiles where people have posted their username and ghost emoji in their bios.

Reverse image search
You can alway try to reverse image search the Snapcodes, snippets of the Snap video, the Bitmoji's and other visual content found on Snapchat.
Want to learn the basics on reverse image search? Check out our previous blogpost!
Let's search!
So hopefully this blog will help you find just a little more info on Snapchat!
Got something to add or got a question? We would love to learn from you! Feel free to contact us via our social media channels or leave a comment below.